ok....
...first day of the kids holidays and I really need to get on top of all the stuff I seem to gather/collect/hoard! so I was looking around and.....
...we have loads of shadow boxes...and the likes around our home but as you can see the shelves are starting to buckle! these are just some of the fossils, pebbles, shells and skulls we have....I must admit I am a massive fan of Joseph Cornell and Barton Lidice Benes, I really love their organised collections, their clever interpretation of the mundane, or a new word i learnt today...quotidian - ordinary or everyday, esp. when mundane.
Cornell's "Sandboxes" are just amazing...
Robert Heinecken, V.N. Pin Up (#1 of 2), 1968. Collection Museum of Contemporary Art Chicago, gift of Daryl Gerber Stokols. © 1968 Robert Heinecken. Photo: Nathan Keay, © MCA Chicago.
I really enjoy incorporating maps into my work at the moment, junk shops, flea markets and car boots are proving their worth in interesting memorabilia at the moment....I've re-looked at Benes...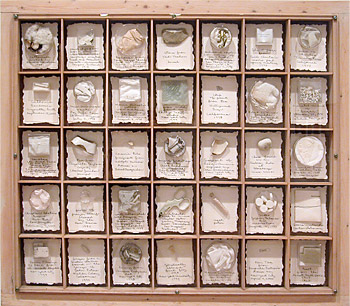 Barton Lidice Benes - Curiosa 2002

This is a great piece of work ...his aunty used to write to him and he decided to use excerpts from her letters within his art...really clever interpretation and use of the everyday!
...and think I might try and make a few more box's like the one I recently sold...
anyway....after trying to get into the loft to look for bits to make some boxes I found loads of plasterboard, laminate flooring, paint and an old installation piece I had taken to pieces....so as I said first day of the hols and lets get busy...and make a very large box of sorts...
...just some of the junk!
...we decided to make our dog Keah a Kennel...
..the weathers so hit and miss so she can stay outside and not get soaked...and we needn't worry if we go out for the day and leave her outside....and the house may stay cleaner too...bonus!
....we measured her bed and worked around that...the only thing we did buy was some clear plastic roofing £7.45...it took a whole day to build and paint the kids and I had a good laugh, even Kevin ended up helping in the end! we ended up finishing it off in the conservatory as guess what....it started to rain!...after insulating and painting the plaster board my daughter printed dog bones in silver for mock wallpaper, we pasted mock picture frames with their photos in them along with a home sweet home print and we just had to put a picture of 3 ducks near her bed! the outside was then painted purple, we even insulated the floor before putting the laminate floor down!!!
...preparing to print the wallpaper...
...and there we have it pooch pad...fit for?!....anything if it rains!!!
...ok maybe not quite what I had planned to do originally but the good thing is I have a bit more room to store my finds!
enjoy!